VASCULAR AND INTERVENTIONAL RADIOLOGY IN HOUSTON AREA
Vascular and interventional radiology at Synergy Radiology Associates offers a host of new, less invasive diagnostic and treatment options designed to minimize physical trauma to the patient, thereby reducing pain, recovery time, infection rates and the overall costs associated with surgery and hospital length of stay.
Synergy Radiology Associates offers vascular and interventional radiology services at many of the 20+ locations we operate out of throughout the Houston area including Katy, The Woodlands, Cypress, Humble and Friendswood, Webster and Kerrville, TX. Call the individual location to schedule or ask your primary care physician for a referral.
Facet joint and nerve root blocks are minimally invasive X-ray guided procedures performed by a radiologist to alleviate pain in patients by selectively injecting anti-inflammatory agents around the spinal facet joints or around the adjacent spinal nerves.
Read more about Spine Facet Joint & Nerve Root Blocks.
Steroid injections are minimally invasive X-ray-guided procedures performed by Synergy Radiology Associates' board-certified radiologists to alleviate pain, most often in the spine and joints. Anti-inflammatory agents are injected directly into the targeted area. This can be performed in patients who suffer pain caused by bulging disks, stenosis of the spine or post-operative surgery syndromes. Additionally, steroid injections can be used to alleviate degenerative joint pain such as in the hips or knees.
Downloads/More Info:
Spinal Steroid Injections – Brochure 

Read more about Steroid Injections.
Male patients with symptomatic enlarged testicular or scrotal veins, called varicoceles, may benefit from minimally invasive catheter directed embolization. Pooling of blood in the veins of the scrotum, causes them to enlarge. The internal pressure and temperature may increase, possibly damaging the testicles and decreasing fertility. Symptoms of varicocele can include abnormal enlargement of veins in scrotum, dull ache or pain in the scrotum.
This condition can be treated through a minimally invasive procedure called Testicular Vein Embolization or Varicocele Embolization. During the procedure, a catheter is inserted into a blood vessel in the groin, and advanced to the site of the varicocele. A special coil is then inserted to embolize (block) the vein, stopping abnormal blood flow, reducing the pressure in the veins and diverting it to other, healthy veins. Eventually, the enlarged vein will shrink and disappear. Patients are generally able to leave the hospital within a few hours of the procedure, with minimal recovery time.
Read more about Testicular Vein Embolization.
Patients who have fluid building up around their lung can benefit from drainage of the fluid for symptom relief and for diagnostic purposes. A radiologist can use Ultrasound to guide a needle where the fluid is to safely drain.
Read more about Thoracentesis.
This treatment for cancer uses imaging guidance to identify blood vessels that supply blood to a tumor, followed by the injection of anti-cancer drugs (chemotherapy) directly into the blood vessel. This technique "traps" the chemotherapy in the tumor while minimizing the effect of the drugs on other, healthy areas of the body.
Read more about Transarterial Chemoembolization (TACE).
Recent advances in targeted tumor therapy give patients and their physicians excellent options for treating primary or metastatic cancer. Thermal ablation uses extreme heat to treat cancer. Using imaging guidance, thin probes are advanced through the skin directly into a tumor to destroy or "ablate" the tumor. Radiofrequency, cryoablation or microwave are minimally invasive options for patients with primary and metastatic cancers, including cancers of the kidney, lung, bone and liver.
Radiofrequency ablation (RFA) is used to treat tumors in the lungs, liver, kidneys, bones and other organs. During treatment, a special probe is placed inside the tumor. Radiofrequency waves passing through the probe increase temperature within the tumor and destroy it. RFA can be used with small primary tumors and metastasized tumors.
Cryoablation (aka cryosurgery, cryotherapy) kills cancer cells using extreme cold. A cryoprobe is inserted into the tumor where a freezing and thawing process is repeated several times. It is used to treat cancer throughout the body, and uses liquid nitrogen, liquid nitrous oxide or compressed argon gas as a cooling agent. After the procedure, the frozen tissue thaws and is absorbed by the body.
Microwave ablation (MWA) uses electromagnetic waves to heat and destroy cancer cells. It is generally used for patients who are not eligible for surgery for primary or secondary lung, liver, renal, adrenal and bone malignancies. Unlike RFA, MWA does not rely on an electrical circuit; therefore multiple applicators can be used simultaneously.
Read more about Tumor Ablation.
Patients who have recurring pleural fluid (excess fluid in the abdomen) can have issues breathing, chest pain, coughing and discomfort. A tunneled pleural catheter is a tube placed under the skin within the chest to help relieve these symptoms. The pleural fluid is drained by the patient at home using a collection system, avoiding numerous trips to the doctor.
Read more about Tunneled Pleural Catheter.
Patients with blockage of the ureters may benefit from internal plastic stents which can be placed by an interventional radiologist under X-ray guidance.
Read more about Ureteral Stent Placement.
For men with suspicious prostate cancer findings, including positive digital rectal exams (DRE) and elevated PSA (prostate-specific antigen) levels, the UroNav Fusion Biopsy System (also called MRI/TRUS fusion biopsy) combines MRI images with real-time ultrasound to help better assist the Urologist who will be performing the biopsy. Through UroNav technology, the Urologist has a much more accurate and clearly defined area for performing the biopsy – leading to more accurate and beneficial results.
Read more about UroNav Fusion Biopsy.
Read how SRA uses hi-tech, 3-D imaging for better prostate cancer diagnosis here.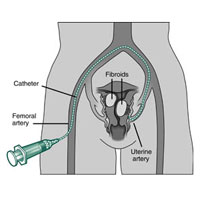 Many women develop uterine fibroid tumors as they age or after childbirth. The tumors can also be hereditary. Fibroid tumors are benign tumors that cause extreme bleeding, pain and extreme discomfort in women. Through Uterine Fibroid Embolization (also known as Uterine Artery Embolization), an interventional radiologist is able to guide small catheters to the arteries that supply the blood flow to the tumors and cut off the blood supply. This causes the tumors to shrink and symptoms to significantly fade, almost immediately. UFE is often performed as an alternative to myomectomy or hysterectomy, as it is minimally invasive with the risks being much smaller and the recovery time being much shorter.
Downloads/More Info:
UFE – A Less Invasive Way to Treat Uterine Fibroids – Brochure
Uterine Fibroids: What Are My Options? – Flyer
Read more about Uterine Fibroid Artery Embolization (UFE).

Under real-time X-ray guidance, called fluoroscopy, contrast is injected in a vein in order to detect an abnormality, such as a narrowing or blockage. The abnormality can sometimes be treated with balloon angioplasty or stenting.
Read more about Venogram.
A form of radiation therapy to treat cancer that cannot be treated surgically, such as hepatic cell carcinoma, liver cancer or metastatic cancer. The treatment involves the injection of tiny microspheres of radioactive material into the arteries that supply the tumor.
Read more about Y90 Selective Internal Radiation Therapy.